Annenberg Space for Photography's 'Hollywood Calling' Opens Feb 2020
LOS ANGELES — On December 10, the Annenberg Space for Photography announced the next exhibition opening in February 2020 – Vanity Fair: Hollywood Calling – The Stars, the Parties, and the Powerbrokers.

The photo exhibit, opening Oscar weekend, runs from February 8 – July 26, 2020.
Curated by Vanity Fair's creative development editor David Friend and the magazine's former director of photography Susan White, Vanity Fair: Hollywood Calling features photographic portraiture and multimedia installations that capture the magic and glamour of the film and television industry's major players from the last four decades.

The exhibition is a look at the Hollywood stars, the parties, and the power brokers, through the distinctive lens of Vanity Fair – the most widely celebrated journalistic arbiter of Hollywood power and personality. The show also includes every Vanity Fair Hollywood Issue cover and portfolio, as well as photos from the annual Vanity Fair party on Oscar night.

"The extraordinary artists in this exhibit have done so much more than chronicle celebrities; they've helped define our popular culture, as Vanity Fair itself has done," said Wallis Annenberg, President, CEO, and Chairman of the Board of the Annenberg Foundation. "Their photographs have inspired magazine readers and defined the careers of Hollywood's most successful actors. This exhibit shows why the allure of Hollywood is impossible to ignore."

"These pictures bring Hollywood to life," says Vanity Fair Editor-in-Chief Radhika Jones. "And together they encapsulate what makes entertainment such a powerful force in our culture. It's hard to capture charisma in two dimensions, but this exhibition shows how Vanity Fair has pulled it off, again and again."
"The show is a veritable time capsule," said Friend. "It reinforces what American Photo Magazine has noted: that Vanity Fair is the ground zero of modern iconography."
With 130 photographs and more than 50 photographers, Hollywood Callingshowcases Vanity Fair's vaunted portraitists, including the magazine's principal photographer, Annie Leibovitz, as well as Jonathan Becker, Harry Benson, Cass Bird, Cristina de Middel, Ethan James Green, Erik Madigan Heck, Horst P. Horst, George Hurrell, Helmut Newton, Jackie Nickerson, Herb Ritts, Collier Schorr, Lord Snowdon, Firooz Zahedi, and dozens more.
The show features images of iconic celebrities in film/TV, comedy and more, including Demi Moore, Natalie Portman, Nicole Kidman, Meryl Streep, Lena Waithe, Lupita Nyong'o, Philip Seymour Hoffman, George Clooney, Michelle Williams, Tom Hanks, Angelina Jolie, Viola Davis, Brad Pitt, Heath Ledger, Jack Nicholson, Ellen DeGeneres, Robin Williams, Eddie Murphy, Jim Carrey, Steve Martin, Janet Jackson, Barbra Streisand, Jodie Foster, Jennifer Lopez, Halle Berry, Oprah Winfrey, Michael B. Jordan, Gwyneth Paltrow, Blythe Danner, Jennifer Lawrence, and many more.

An exclusive documentary allows exhibit visitors to get a look at the history and the making of the Hollywood Issue, one of Vanity Fair's most popular issues. The documentary takes viewers behind the scenes to see how established and up-and-coming stars are selected for the coveted Vanity Fair cover.

The short film concludes with a visit to the set to watch it all come together. The 2020 Hollywood Issue hits newsstands on January 28, 2020 just days before the photo exhibit will open to the public.Additionally, there is an interactive photo opportunity, designed by photographer Mark Seliger, that replicates one of his famous sets inside the Vanity Fair party on Oscar night, allowing visitors to take their own portraits.
Annenberg Space for Photography will also offer a variety of public programs to coincide with the exhibition, including unique workshops, educational and participatory panels, conversations, field trips, family activities, and more.
Visitors can explore the exhibit starting February 8, 2020 every Wednesday through Sunday from 11 a.m. – 6 p.m. at 2000 Avenue of the Stars in Los Angeles. Admission is free; parking is validated.
Women in Photography: Visual Disruptors 2020 – Mar 22
WEST HOLLYWOOD — March is Women's History Month and what better way to celebrate than to inspire a community. Photographers, creatives, consultants of all genders are invited to Quixote Studios' Women in Photography: Visual Disrupters event on Sunday, March 22.
American Planning Association (APA) Los Angeles would like to invite you to join, support and celebrate women in the photography industry at their third annual Women In Photography event.
The panels will cover topics such as diversity within the industries, women's advancement, work/life balance, the creative process, social media, mentorship, activism, challenges working women continue to face on set and beyond.
"This is a teaching moment! We are so honored to have two unique panels of successful women share their stories with us," their announcement boasts.
The day will begin with a panel discussion, then a networking lunch break followed by a second panel discussion. Lunch will be provided.
Parking will be limited; the event suggests using a ride share service.
PHOTOGRAPHER PANEL:
Lauren Crew, Ash Danielsen, Gizelle Hernandez , Danielle Levitt, Diana Zalucky 
MODERATOR: Cecily Chambers 
CREATIVE PANEL:
Clarissa Garrett (72 and Sunny), Kim Getty (Deutch), Ada Guerin (Los Angeles Magazine), Katie Hawkins (Quibi), Audrey Landreth (Apple), Rachael Lieberman Producer, Heidi Volpe (Patagonia)
MODERATOR:  Monica Zaffarano 
Sun 22nd Mar, 2020
11:00am–3:30pm

Quixote Studios 1011 North Fuller Avenue
West Hollywood, CA 90046
$25 APA Members
$40 General Admission
$10 Students with Valid ID
'Clueless' Pop-Up Coming to WeHo to Celebrate Film's 25th Anniversary
WEST HOLLYWOOD, Calif. (KABC) — "As if" we needed another reason to stroll down memory lane! A new pop-up restaurant for the '90s classic film "Clueless" is opening on Santa Monica Boulevard and it's totally buggin'.

The pop-up, which is appropriately called "As If," coincides with the film's 25th anniversary and launches on March 31.

The restaurant will feature "Cher-able" drinks and snacks inspired by the film, along with set recreations and photos of the film's most memorable scenes.
Tickets for the pop-up go on sale Friday, March 6 at 10 a.m. for $35 each and include 90 minutes in the restaurant, an entree and a side. As If runs from March 31 – May 8, Tuesdays – Sundays at 7100 Santa Monica […]
WeHo Reads: Architects Who Built Southern California Opens Mar 6
WEST HOLLYWOOD — Join author Antonio Gonzalez for a free event, as he tells the stories of the people behind some of Southern California's most iconic buildings.
In the early 1900s, the population of Southern California exploded, and the cities grew at such a rapid pace that builders could hardly keep up.
Among those who settled in the area were ten architects looking to make their marks on the world. Claud Beelman, a man who never received a college degree, would go on to design the Elks Lodge in Los Angeles.
Albert C. Martin, architect of Grauman's Million Dollar Theater, founded a company that is still going strong more than one hundred years later, and Julia Morgan, the first woman architect licensed in California, was hired by William Randolph Hearst to design the Examiner Building.
Antonio Gonzalez has a BA in journalism from the University of Iowa and an MLIS from San Jose State University. He is a member of the Odd Fellows fraternity, works in an architecture and fine arts library and has a blog where he post items related to architecture and his other interests (misterdangerous.wordpress.com).
In 2015, arts and historic preservation staff began a project of documenting all of the City's designated historic properties.
This free exhibition shows a selection of photographs from the over 80 properties that were documented by West Hollywood photographer Tony Coelho, representing a wide array of architectural styles and associations with well-known architects and builders. These images celebrate West Hollywood – recognizing our past, present, and future.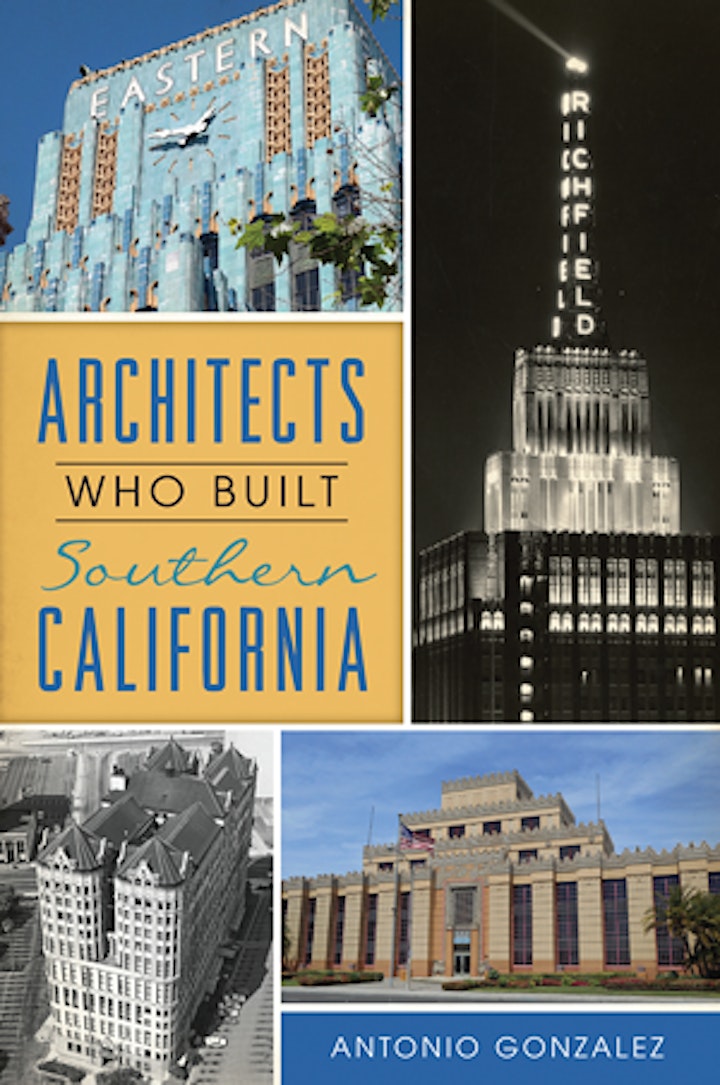 When and Where:
Friday, March 6, 7:00 pm
Community Meeting Room at the West Hollywood Library
625 N. San Vicente Blvd. West Hollywood, CA 90069
7-8 pm: Reading and Architecture Presentation by Antonio Gonzalez
8-9 pm: Exhibition Reception with artists upstairs.
RSVP required. Register at: niahistoric-weho-reception. For more information about this exhibit visit https://www.weho.org, or contact Mike Che, Arts Coordinator, mche@weho.org.